* Invited and Regular Papers will be published in various Indexed Journals (ISI, SCOPUS, EBSCO, DBLP, ACM, IET/INSPEC, Proquest, Copernicus etc...) based on quality and reviewers' recommendations or in our Books in Springer Verlag. Click here







* Authors will be informed about the title of the Journal before their registration.
* Contact us by email: support@inase.org Registration fees Publication Ethics and Malpractice Statement Deadlines
PLENARY SPEAKERS:

Prof. Liliana Porojan, "Victor Babes" University of Medicine and Pharmacy Timisoara, Faculty of Dentistry, Department of Dental Prostheses Technology, ROMANIA e-mail: lilianasandu@gmail.com

Title:
"Modern Evaluation Methods Involved in the Development of All-Ceramic Dental Restorations"
Abstract:
Despite progress of ceramic materials and their technologies made in the last decade, all-ceramic restorations still have lower clinical longevity compared to metal-ceramic restorations, due to their brittle nature. Computer-aided design/computer-aided manufacturing (CAD/CAM) systems play an increasing role in current dental prosthodontics. Optimizing of dental restorations is one of the key factors of introducing digital technologies in the prosthodontic treatment. All these technologies require long-term studies in order to be introduced in dental practice. New materials are often introduced into the market and especially in the current practice, without a basic understanding of their clinical performance because long term controlled clinical trials are required, which are both time-consuming and expensive. The major concern in using digital restorations is to increase their strength and reliability. Analyses of the failure evolution can be conducted using mechanical or extended finite element analyses. Reliability analyses methods provide a systematic approach for evaluating dental restorations. The variability and uncertainty of a lot of factors that affect the failure rate of oral prostheses achieved by new technologies have to be considered. This work was supported by a grant of the Romanian National Authority for Scientific Research and Innovation CNCS-UEFISCDI, project number PN-II-RU-TE-2014-4-0476.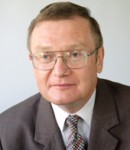 Prof. Alexander V. Sirotkin, Constantine the Philosopher University, Nitra and Research Institute of Animal Production, Luzianky, SLOVAKIA, e-mail: asirotkin@ukf.sk

Title:
"Novel regulators of ovarian functions"
Abstract:
This is the review of original data concerning the role of some hormones (GH, leptin, ghrelin, obestatin, NPY), growth factors (IGF-I, IGFBPs, EGF, thrombopoietin), intracellular mediators of their action (cyclic nucleotides, protein kinases, transcription factors and related cDNA, siRNA and miRNA gene constructs) on basic ovarian functions (cell proliferation, apoptosis, secretion, oogenesis, ovulation, production and viability of pups) in different species (humans, pig, rabbit and chicken). Practical applications of some these molecules for characterisation, prediction and control of reproductive processes in these species was examined too. Whole animals, ovarian follicles and their fragments, ovarian granulosa cells or oocyte-cumulus complexes were treated with hormones, antisera against these hormones, blockers of protein kinases (PKA, MAPK, CDK), cDNA constructs for transcription factors (CREB, STAT-1, p53, NFkB), siRNAs constructs down-regulated a number of protein kinases, as well as by constructs down- and up-regulated the ovary-specific miRNAs. Expression of these substances, as well as the markers of proliferation, apoptosis, hormone secretion, stages of meiosis and fertility were evaluated by using RIA/EIA, SDS PAGE-Western blotting, immunocytochemistry, RT-PCR and morphometry.
It was shown that these hormonal and intracellular regulators are able to control apoptosis, proliferation and secretory activity in porcine, rabbit, human and chicken ovarian cells and maturation of porcine oocytes and cumulus oophorus in vivo and in vitro, as well as to suppress or promote the response of ovarian cells to other hormones (gonadotrophins, IGF-I, ghrelin). Immuno-blockade of these hormones prevented their effects. Effects of hormones on rabbit, human and chicken ovarian cells and on porcine and bovine oocytes were associated with changes in PKA, MAPK and CDK and transcription factors CREB, STAT-1, NFkB and p53 in such cells, whilst blockers of these kinases prevented or promoted hormones action. Transfection of porcine and rabbit granulosa cells with gene constructs for these transcription factors affected ovarian cell functions and prevented or reversed hormones action. Down-regulation of approx. 1/3 known protein kinases by specific siRNA constructs resulted not only decrease in accumulation of these kinases within human ovarian granulosa cells, but also changes in expression of kinase-dependent transcription factors, markers of cell proliferation, apoptosis and release of steroid hormones, oxytocin, prostaglandins and IGF-I. Transfection of human granulose cells with constructs up and down regulating expression of some miRNAs are able to increase or decrease ovarian cell proliferation, occurrence of apoptosis, as well as the hormones release. In-vivo experiments demonstrated that leptin, IGF-I, steroid hormones and some regulators of PKA, MAPK and CDK could be used to predict reproductive efficiency, for direct in-vitro control of maturation of oocytes and for in-vivo stimulation of reproduction in pigs and rabbits.
These observations suggest, that metabolic hormones, growth factors and intracellular regulators and mediators of their action (protein kinases, transcription factors, siRNAs, miRNAs) can be used for characterization of state of ovarian cells, for identification signaling pathways (hormones-growth factors-protein kinases-transcription factors-genes regulating proliferation, apoptosis and secretory activity) controlling reproductive processes, as well as for prediction and control of basic ovarian cell functions (proliferation, apoptosis, secretory activity, maturation of oocyte-cumulus complex and fertility).

Prof. Matthew He, Halmos College of Natural Sciences and Oceanography, Nova Southeastern University, USA, e-mail: hem@nova.edu

Title:
"Dynamics Between Biology and Mathematics: Past, Present, and Future"
Abstract:
The outline of this talk includes three phases of the interactions between biology and mathematics:
Part 1 The Past
- The Motion of the Heart and Blood in Animals (Harvey 1847)
- Discovery of Genes (Mendel 1866)
- Biological Problems that Stimulated Mathematics
- Ten Equations that Changed Biology
Part 2 The Present
- The Landscapes of Biological Sciences
- The Landscapes of Applied Mathematics
- The Landscapes of Research in Biology and Mathematics
- Bioinformatics of Mathematics: Theory, Methods, and Applications
Part 3 The Future
- Potential Problems
- Meeting the Challenges: Education Across the Biological, Mathematical and Computer Sciences
- A New Biology Curriculum for the 21st Century
- Ten Challenge Problems Between Biology and Mathematics.