* Invited and Regular Papers will be published in various Indexed Journals (ISI, SCOPUS, EBSCO, DBLP, ACM, IET/INSPEC, Proquest, Copernicus etc...) based on quality and reviewers' recommendations or in our Books in Springer Verlag. Click here





* Authors will be informed about the title of the Journal before their registration.
* Contact us by email: support@inase.org Registration fees Publication Ethics and Malpractice Statement Deadlines
(Previous Conference: MATERIALS 2016, Corfu Island, Greece, July 14-17, 2016)
PLENARY SPEAKERS: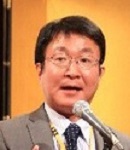 Prof. Setsuhisa Tanabe, Kyoto University, Kyoto, JAPAN, e-mail: tanabe.setsuhisa.4v@kyoto-u.ac.jp

Title:
"Design of Near-Infrared Persistent Phosphors for Bio-Imaging"
Abstract:
Persistent phosphor materials at the transparent windows of bio tissues are expected for in vivo imaging without excitation source, which produces various noises such as auto-fluorescence. The ZnGa2O4:Cr3+ spinel phosphor is a successful example of persistent luminescence at 700nm, corresponding to the 1st bio-imaging window. Because of recently advanced availability of InGaAs photo-detectors, near-infrared (NIR) fluorescence probes have been widely developed with luminescence of Nd3+:1.06-mm and Er3+:1.55-mm. We have developed garnet-based persistent phosphors in which Nd3+ or Er3+ ions show very efficient and long NIR persistent luminescence. Photon emission rate and duration of these materials are only slightly lower and shorter than the visible persistent phosphors of Ce3+-doped garnets we developed in 2014, the performance of which is almost comparable to the SrAl2O4: Eu2+, Dy3+. These phosphors can be applied to in vivo imaging in the 2nd and 3rd bio-imaging windows of high transparency and sensitivity of InGaAs detectors.